At IST, we aim to give our students the education and the knowledge tools to improve, to change and to shape society through science, technology, and entrepreneurship.
This page is aimed at providing complete application information for students interested in attending IST courses (1st and 2nd Cycle).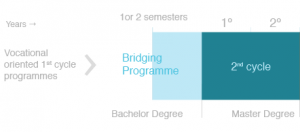 The Bachelor Degree (B.Sc) (three years) is obtained after the student has completed course requirements that amounts to 180 ECTS in a certain area of specialisation. The B.Sc degree certifies basic scientific and technical training as well as professionally relevant skills. After obtaining a B.Sc diploma, students can either enter the job market directly or continue his/her studies in a Master Program.
IST offers a variety of Bachelor courses in different areas of Engineering. Our Bachelors give the students the broad skills set they need to pursue their goals, whether that means working as an engineer, founding a company, continuing on to a master degree and research, or to a MBA. We help our students grow as creative thinkers and leaders.
IST offers a vast selection of Master programms addressing the key scientific and technological challenges of modern societies. Master programs confer advanced training in specific domains of engineering, science and technology. It comprises the participation in research and development activities in one of the IST research centres and in close collaboration with faculty members, researchers and industries. Through a variety of international programs, IST offers the possibility of completing part of the M.Sc studies in one of our international academic partners.
The Master Degree (M.Sc) corresponds either to two additional years of training (90-120 ECTS) after the completion of a B.Sc, or to a total of 5 years training (300 ECTS). These M.Sc programmes provide an advanced level of qualifications with a stronger scientific and technical content, usually involving a larger domain of specialization. IST is proud to offer a wide variety of M.Sc programmes to both national and international students.